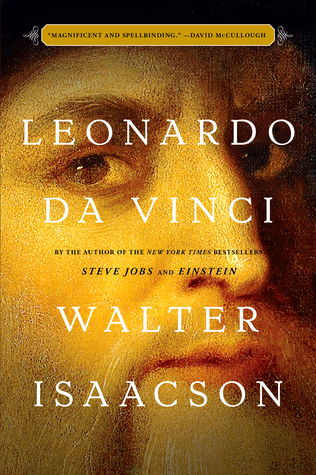 Leonardo da Vinci by Walter Isaacson.
My rating: 4 of 5 stars.
Walter Isaacson's made no bones about his interest in genius. I mean, he's written biographical surveys of Albert Einstein (undoubtedly), Benjamin Franklin (yep), Steve Jobs (well…) and, er, Henry Kissinger (ahem) among others. Now, he turns his gaze towards a guy who we normally gaze towards – well, his works, anyway. Leonardo da Vinci.
Ah stuff it. Ignore the terrible segue and look at this ripped geometric dude instead.
Whew, crisis averted.I read this book in hardcover and it is wonderfully produced. It's a proper thing of beauty: heavy, with hundreds of full-colour reproductions. It's very carefully laid out, and the inline imagery (as opposed to the standard publishing practice of running pictures in a four-colour stitch in while the rest of the book is regular black and white print) certainly helps keep chapter topics clearly in the foreground.
And the subject? Well. Leonardo, unlike Michelangelo, was less than gregarious when it actually came to finishing his own works. The amount of paintings he actually completed is fewer than thirty, roughly. He was flamboyant, gay, a bastard (literally) and managed to rub shoulders with all the movers and shakers of the Renaissance across Italy and France, despite the fact that he seemed to be more interested in everything other than painting.
You know, the normal stuff. Like making lists. Like figuring out how to drain swamps, or create weapons. Or trying to learn how to fly. Or, in the days before refrigeration, figuring out what the innards of humans looked like. Or to figure out what the tongue of a woodpecker looked like. All of which, naturally, was recorded in notebooks and documents in haphazard order, but with meticulous detail.
What was surprising to me was how little I knew about Leonardo. The book certainly corrected that blind spot in my knowledge, but the author points out that most people don't know a whole lot about the guy. We tend to picture him as an older man with long hair, thanks to a Francesco Melzi portrait, so it's easy to forget that he was once a young man, or that he was largely self-educated, or that as well as being an able procrastinator, he was a proper polymath. And that perhaps, Leonardo's value exceeds his work – he's most useful as a symbol of what curiosity can result in.
I've not read any other Isaacson biographies, but have heard that this one is quite similar to his work on Steve Jobs. It's a pretty breezy style of writing, and certainly is nowhere near as academic sounding as you might expect, though there are copious references for each comment on the artist. I have the feeling there's a lot of inferences drawn by Isaacson to paper over gaps in official records and to peel back some of the exaggerations of scribes such as Vasari. It's a very sure narrative that's presented, though I am certain that its lightheartedness and flitting between topics is down to Leonardo's tendency to move from subject to subject.
There's an excellent list presented later in the book that is worth reproducing, even though each point is expanded in greater detail in the work itself. It's a list of what we can learn from Leonardo, and seems to be Isaacson's main thrust: that biography is, in itself, interesting, but it's more useful if we can take something from it. In this case, there's a series of suggested behaviours. Some of them double up, and some of them are best described as akin to the mindfulness that's become popular of late. But they're worth considering, regardless.
Be curious, relentlessly curious.
Seek knowledge for its own sake.
Retain a childlike sense of wonder.
Observe.
Start with the details.
See things unseen.
Go down rabbit holes.
Get distracted.
Respect facts.
Procrastinate.
Let perfect be the enemy of good.
Think visually.
Avoid silos.
Let your reach exceed your grasp.
Indulge fantasy.
Create for yourself, not just for patrons.
Collaborate.
Make lists.
Take notes, on paper.
Be open to mystery.
Not bad, right?
The book ends with something teased throughout: a description of the tongue of the woodpecker. It doesn't serve much purpose, but that is its purpose: it's something that interested Leonardo. It cropped up on the artist's to-do list and serves as something of a guide for this biography as a whole: you can be one of the greatest creators in the world, and still be intrigued in something silly and outwardly useless.
Embrace your useless desires, folks.