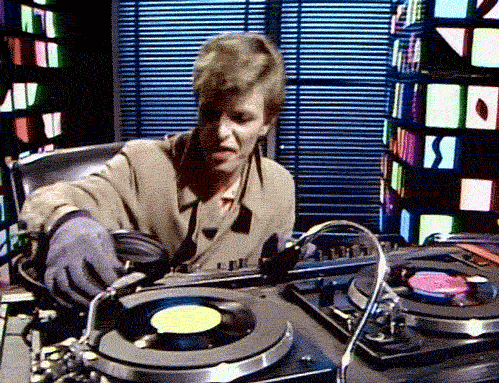 A little while ago my friend Andy made a fairly lengthy Facebook thread detailing his favourite David Bowie songs from each of Bowie's albums. It sparked a bit of conversation, and I figured I'd like to do the same, as it would give me – if nothing else – an excuse to play all the albums again. (You know, as if I needed one.)
What I learned from this endeavour is: 1) post-anaesthesia listening is weird (I did most of the thinking in the days after a brief hospital trip) and 2) that fucker makes it difficult to choose one song on an album. Let alone articulate why you like the bloody thing in the first place
Let's go.
David Bowie (1967): 'Rubber Band'

Curiously, this is one of the first Bowie songs I can remember – I think I saw the performance that was part of the Love You Til Tuesday video. Regardless, it's different to some of the lighter fare on the album. There's a baroque feeling to it, as well as a creeping fartiness, while the lyrics reflect a darker view. Owes a lot to Anthony Newley's way of writing, it seems. (Newley went on to write the soundtrack to the '70s Willy Wonka & the Chocolate Factory – this is pure Oompa-Loompa stuff.) It's unusual and not as successful as it could be – can that baton-breaking line fuck off, please? – but I do like the grimness within.
Space Oddity (1969): 'Memory of a Free Festival'.

It would've been pretty easy to pick 'Space Oddity' for its iconic nature or 'Cygnet Committee' for its attempt at packing a Tommy-length story into nine minutes, but I'm going with the album closer, because not only does it feature MARC FUCKEN BOLAN on guitar and backing vocals, but it seems to act as a kind of signpost of the flower-power world that Bowie would soon leave. It's unformed, mostly, a collection of reminiscences and potential, until that final repetitive chorus comes in like a hammer of sunlight. Gonna have a party, eh.
The Man Who Sold The World (1970): 'Black Country Rock'

More straight-ahead than other choices here, I suppose, but that opening lick sets the tone immediately, with heaviness that's overlaid by the soaring vocal. It's let down a little by the vocal mugging in the last lyric go-round, but hey, early days. The double-tracked guitar interlude after "adieu" has always sounded like a break from a Seattle song, decades too early. No wonder Kurt covered something from this album.
Hunky Dory (1971): 'Oh! You Pretty Things'

While 'Quicksand' was a contender because of its mystical death-lovin' lyricism, and 'Andy Warhol' for its attempt at masking fan worship under a too-cool studio banter add-on, it always had to be this. Introducing the homo superior, spacy transhuman aspect of Bowie's canon, this still has an element of the music hall, of some kind of knees-up quaintness. When that descending, chorused bass comes in though – well it always sounds like a crew of people in spats, walking in lockstep down some stairs.
The Rise and Fall of Ziggy Stardust and the Spiders from Mars (1972): 'Starman'

And now we're really in space. A tune which begins with a tired, almost fragile vocal but then gears up as it breaks into that octave-jump chorus. The enthusiasm is palpable, but then comes the best twelve-bar boogie interlude ever recorded. Jittery 12-string guitars and a fluid six-string of somehow sad raunch, with melancholic strings somehow evoking the distance of interstellar transmission. Let all the children boogie, indeed.
Aladdin Sane (1973): 'Time'

If this wasn't an influence on 'The Trial' from Pink Floyd's The Wall I'd be very surprised. It's Bowie in space-Weimar mode, railing against the onward march of time, while Mick Ronson goes fucking batshit in the background. Listen: the psychotic, highest-pitch guitar that comes in on the "quaaludes and red wine" line is the perfect example of when a night's gone on that little bit too long, and you know tomorrow is not going to be worth facing. .
Pin Ups (1973): 'Sorrow'

An example of a cover changed enough to become an artist's own. Musically, it's less jangly than The McCoys original and The Merseys' version, and with the horn break and overlaid vocals, there's a touch more desperation to the tune in this reading, aided by a tense change to the lyrics which creates a darker air.
Diamond Dogs (1974): 'Diamond Dogs'

This ain't rock and roll. This is genocide. Cowbell demarcations and an opening riff which echoes air-raid sirens, this is a tense beast which seems to slacken in the lead to the brief chorus – except for the wavy vocals, which serve to underscore the underlying frayed-nerve nature of the song even as it suggests release. There's a sense of the Stones in the guitarwork here, of America. As long as I can remember hearing this song, I remember being provided with the unbidden mental image of a bunch of people doing an absolute fuckload of cocaine in a marquee. I think it's probably not far from the truth.
Young Americans (1975): 'Fame'

In which drugs turn a man into a robot complaining about his management with the aid of the world's funkiest guitar. Everything works: the tired vocals, the Greek chorus echoing the title, the almost hesitant bassline. It is danceable even if you, like I, cannot dance, so it's no wonder this is what got a whittled-by-drugs singer onto Soul Train. So much phaser you could chew this thing with your ears. Strange to think that this is really just a vamp that grew legs.
Station to Station (1976): 'Station to Station'

It must be the drugs. Though he sings, later, that it's not the side-effects of the cocaine, the cold, detached, paranoiac gaze here is the result of a year spent LA-terrified, shut in rooms with occultist paraphenalia lest witches steal one's semen. Eating only red peppers and drinking only red milk while mainlining krautrock and Crowley led to this, the opener (and capstone) of an album designed as a working – one Bowie said hadn't been deciphered successfully. It's cold and distant, one magical movement from Kether to Malkuth, a combination of muted flamenco picking and robotic swagger. The beginning's better than the end, and it collapses later, but you can't keep this much tension under wraps indefinitely.
Low (1977): 'Sound and Vision'

Writer's block never sounded so jaunty. The Murray/Alomar/Davis trio keep the rhythm locked down tight – the drums on here are probably my favourite of any Bowie track. Then there's an effected sax, and those vocals: and we're almost half done. It's a piece of much-needed levity on an album that's basically a German rabbit hole, and it has the trick of sounding happy while being ostensibly about sitting alone in a room, wondering when inspiration will strike – or if it even exists. A song sprung from considering one's inability to write a song? Great.
"Heroes" (1977): "Heroes"

An absolute fucking monster, about which much has been written. Most of that's unable to convey the punch the thing has. When Bowie died, I wrote something about it. Trying to do the same, I suppose.
Everyone has a favourite song, or a bunch of them. But I guess I'll sign off this thing with this one. Because it is everything Bowie did well: collaboration (Eno's wall-of-synths, Fripp's amazing guitar); observation (the ironic quotes, the lyrics snatched from a studio embrace); change (it was only given lyrics late in recording), borrowing (it's based on a Neu! tune) and of course that lyrical nous. It's hopeful and encouraging and sad all at once, and it makes my heart burst to listen to it, today.
Lodger (1979): 'DJ'

Though part of my wants to go with the interlocking joy of 'Yassassin – Turkish For: Long Live', it really had to be this one. A syrupy confection built on an insistent piano stab, I love way it takes the story of a man with no job, and a girlfriend – maybe – who is defined by his taste. He's got believers (kiss kiss) believing in him. It's a serviceable enough tune, but the real genius comes in the transition section, as the insistence drops out into a phased abyss while Bowie sings about time passing and heartbreak. There's desperation behind the decks for this DJ, whose singer-shared initials can't be a coincidence
Scary Monsters (And Super Creeps) (1980): 'Ashes to Ashes'

In which Bowie revisits his spaceman past and finds himself wanting. From the post-death post:
'Ashes to Ashes', I think, remains my favourite track. It's the one I most clearly remember engaging with when young. I'd heard other stuff, but this one – the solarised filmclip, the Pierrot costume, the elegant astronaut hair, the bulldozer, that sproing sound – smacked me around. And as I grow older, the mea culpa, the personal examination and the forlorn tiredness of the song takes on a different meaning.

Let's Dance (1983): 'Let's Dance'

While 'Modern Love' is far more mournfully introspective, and 'Cat People (Putting Out Fire)' is more maniacal (with GAS-O-LIIIIINE!) but the title track from this album (even in its shortened single version) is the high point of '80s Bowie. Almost-free saxophone, supported by lurking city cab horns, herald the introduction of an almost roué-sung vocal which eventually becomes full-throated while singing about the strength of love. There's the vocal group opening, the way the bass coils against sense, the lurking, heavy-vibrato guitar soloing and echoing, what's-that-fingering Nile Rogers chord work. It slots together like a machine, quite aside from the straightforward yearning of the lyrics – some of the less obtuse to appear. The fact that his reinterpretation of the song in later performances – seriously, watch this one – always circled around to the explosiveness of the original arrangement is testament to the obscure studio rites that give birth to an undeniable classic.
Tonight (1984): 'Loving the Alien'

How do you follow Let's Dance? You try chasing your tail and end up with this album, one that Bowie apparently loathed. But this opener? It's not bad. It sounds like neon confessional music. The opening chords appear to have been lifted for the Labyrinth soundtrack at some point, and the song seems a preparatory gesture towards that project's music – there's the same anthemic sensibility. It's polished, almost too much so, but the marimba saves it – just about. Special props for the lead-up to the chorus, which sounds like a deconstruction, a shake-up of what's gone before.
(I also have a soft spot for the title track, a duet with Tina Turner, which appears to be an ode to a choking girlfriend or child, depending on your viewpoint. It's more jaunty than you'd expect.)
Never Let Me Down (1987): 'Time Will Crawl'

This is one of those albums about which it's very difficult to pick much that's good. I almost picked the cover of Iggy Pop's "Bang Bang" because it's so ridiculously, ridiculously coke-snortingly over the top, replete with a terrible American accent. But instead, I had to go with 'Time Will Crawl', largely because of its off-chops dance theatre film clip. But while it's easy to write it off as excess, except for those lyrics. Those lyrics: working in evolution, 2001: A Space Odyssey and checking in again with an unnamed astronaut. There's mentions of sacrifice, body failure and eyeless corpses. And this in something that reached number seven on the Billboard charts.
Tin Machine (1989): 'Under the God'

Bearded Bowie sings about beatings and swastikas. Tin Machine gets a lot of stick, but it's muscular rock in a sort of speedier late-period King Crimson vein. It was a brave project – one of the most famous singers in the world eschewing cut-ups and trying to be one of the guys – but ultimately one that couldn't survive the cult of personality or the lure of other members' addictions.
Tin Machine II (1991): 'Shopping for Girls'

Still, I suppose there was enough in the tank for a second album. While songs like 'Amlapura' show a bit more subtlety, I find 'Shopping For Girls' to be the strongest here. It's a wonky beast, musically – slides and acoustic backings, insistent hammer-ons – and lyrically discusses child prostitution. You can hear the engine running out of steam, but it's going in uncomfortable directions at least – vocally there's some Springsteen mumbling in the verses, I think.
Black Tie White Noise (1993): 'I Know It's Gonna Happen Someday'

This is to covers as Nicolas Cage is to restrained acting. It takes Morrissey's yearning original and gives it a slight soul choir makeover, but pushes the vocal to places even Moz, afraid of mawkishness, wouldn't take it. It's ridiculous because it's so all-or-nothing, and that's why it works. A big weeper requires a big reading, and that's exactly what's offered.
The Buddha of Suburbia (1993): 'The Mysteries'.

From a TV soundtrack (even though only one of the tracks actually appeared there) which Bowie claimed was his favourite album comes this, a more interesting Eno ambient track which harks back to the Berlin albums but offers a bit more warmth. These are the things he claims influenced the music:
Free association lyrics, Pink Floyd, Harry Partch, Costume, Blues Clubs, Unter den Linden, Brucke Museum, Pet Sounds, Friends of the Krays, Roxy Music, T-Rex, The Casserole, Neu, Kraftwerk, Bromley, Croydon, Eno, Prostitutes & Soho, Ronnie Scott's Club, Travels through Russia, Loneliness, O'Jays, Philip Glass in New York clubs, Die Mauer, Drugs.
Fair enough.
Outside (1995): 'The Heart's Filthy Lesson'

This is a hard one. Outside, the left-to-chance, Eno-steered album is a gorgeous, overlong mess with a bunch of exceptional songs disguised as a detective story and meditation on performance art. 'I'm Deranged' (better known for its use in Lost Highway is a standout, all driving obsession, while the brain-fracturing hammers of 'Hallo Spaceboy' has a rare urgency. 'The Motel' is a moody vocal extravaganza, but in the end I couldn't go past the first thing I heard from the album. It's sexy and pulsing, industrial with baroque touches. A cascade of voices lament their loss, but in a way you can dance to.
Earthling (1997): 'Battle for Britain (The Letter)'

Drum and bass DB. Earthling proved Bowie never stopped trying to throw other influences into his work. The album's a bit hit or miss, but there's much more rawness in the vocals than normal. Machinery whizzes around the periphery of the track, while a strong rhythm section bring a super-strong performance to a track already percolating with percussion. Chunky guitars elevate the chorus out of the daily-grind quagmire of the verses, and though I know this track is dated as hell it still sounds fresh, production-wise.
Hours (1999): 'Brilliant Adventure'

Though this album's a bit more MOR than Earthling, there's still some good songs on it. It's nowhere near as frenetic, though my favourite from here is vocal-free. It's another mysterious, almost ambient piece with menacing drones bullying a mysterious koto-sounding lead synth. A frippery, maybe? Sure. But there's something in this track that creates a whole world. It could be the influence of work Bowie had done for a rather odd videogame, but the vignette makes me want more. MORE.
Heathen (2002): 'Sunday'

Another more refined track, with a considered, fluid vocal. It's also where the name for the most recent career retrospective comes from. It'slower than lots of other work, but there's no lack of fine detail in the track – listen beyond the waves of synth and there's elements of Fripp-styled guitar, almost a Penguin Cafe Orchestra telephone ring; there's skittish drums. There's a lurking sense of tension, as befits a song about the beginning of the end.
Reality (2003): 'The Loneliest Guy'

Though there's undeniable sass to 'Bring Me The Disco King', I prefer this track. YouTube is truculent and won't give me the album version, so a live one will have to do. It's a minimal piece, a close relation to the work of Bill Frisell. There's not much to it, apart from the tremulous, in-denial vocal work. It's simple and sad, and proof that when things are stripped back, that voice can make even the most on-the-nose lyrics work.
The Next Day (2013): 'Dirty Boys'

After a ten year gap came an album with the best/worst cover – a white square over the "Heroes" cover shot – with a ridiculous amount of good songs and uniformly strong production. "How Does The Grass Grow?" is a stuttering war cry with a wordless refrain. "Valentine's Day" is a school-shooter confection and "Love Is Lost" is excellently tense. It's a darker album, which is why I like "Dirty Boys" so much. It mines the sort of saxtacular theatrical seam as later Tom Waits songs but wears a tuxedo instead of an op-shop suit. Drumbeats float through the air, the song breathing before the next tom hits. There's bastardry afoot, only leavened by a tremolo-guitar chorus. Someone's going to get stabbed, but we're not told who – the song ends with no resolution to the tale.
Blackstar (2016): 'Lazarus'

And here we are. The perfectly planned sign-off, 18 months in the making and released immediately before Bowie's death. While "Blackstar" was epic and spacey, 'Lazarus' is more immediately personal. It's almost impossible to disconnect the song from the video, weighted with as many images of the singer's career, the completion of the magical movement from Kether to Malkuth. Donny McCaslin's group roil underneath talk of freedom from restraint, of pain and transformation. He's dead, but the song continues. Just like that bluebird. A beautiful song on a deeply creepy yet completely apt farewell.
Notable odds and sods
There's a couple of other songs that deserve a mention here. Having come to his death, it's worth considering "My Death" from the soundtrack to the Ziggy movie. It's Bowie's tribute to Jacques Brel (and Scott Walker, by extension) and shows the shadow Thanatos cast over the guy. I particularly like that it's just him, some piano, and at the end, crowds begging for attention that steal the last words of the tune.
From 1981, there's the collaboration with Queen, "Under Pressure". You know this one. If it doesn't give you goosebumps (regardless of what you think of that terrible Elton/May musical) then you're probably fucking dead. I mean, listen to the isolated vocals and marvel how the Big Book Of British Smiles combined to create some of the most remarkable voices ever.
From 1986, there's two songs. Both are from movies. First, the title track from Absolute Beginners which blends doo-wop portions with what has to be one of the most soaring parts of any Bowie song, remarkable considering this thing was hammered out in short order with session musicians who had no clue who would be singing until he turned up. Second, I offer "Within You" from the Labyrinth soundtrack. It's not as catchy as some of the other pieces on the soundtrack, but its angst and helplessness completely captures the odd subservience of Jareth, the role the singer played in the film. It's jerky and almost an offcut, but there's a mood there that's undeniable, especially when it's paired with the Escher knockoff portion of the movie in which it appears.
If you're reached this line, you're finished. A winner is you.
This has been an interesting process, one which may be of not much interest to anyone but me – but I hope it's given you, at least, an excuse to play an afternoon's worth of amazing fucking songs.